Commercial Pool Tiles for large pools, olympic pools and school pools
The Pool Tile Company are the Australian agents for Serapool who are a leading European pool tile producer who manufacture a full range of Commercial Pool Tiles and Wet Deck Systems including floor and wall tiles, finger grip and anti-slip tiles as well as gutter and grate systems. See photo gallery of Serapool commercial pool tiles in place in large Australian swimming pools.
The Serapool range is accurately sized and meets the specific requirements of Olympic swimming pools, aquatic centres, school pools, council pools and hydrotherapy pools in Australia.

Serapool tiles are sold all over the world and we are proud to be the Australian and New Zealand distributor. Our first sale of Serapool tiles was in 2003 for the Port Macquarie Hastings Council Kendall Community Pool where they continue to be in service today.

Serapool have an extensive support network and we have samples which we can send you and also design and specification manuals for your use.
The Pool Tile Company are pricing the Serapool range competitively in order to gain exposure in Australia.

Items shown here are only a small selection of what is available.
For more information please contact our sales team.
Commercial Wet Deck Non Slip Porcelain Pool Tiles

CP10207
Handle (Cobalt)

Handles


CP80121.3
Porcelain Tiles
(Light Blue)

Porcelain Tiles

CP21217
Rounded Side Semi Glazed Antislip

CP80123
Porcelain Tiles
(White)

CP20200
Antislip Tile (Unglazed)

CP10227
Profile Handle (Cobalt)

CP80133
Porcelain Antislip Tiles
(White)

CP80137
Porcelain Antislip Tiles
(Cobalt)

CP80131.3
Porcelain Antislip Tiles
(Light Blue)

CP11207
Ridged Handle (Cobalt)

CP80127
Porcelain Tiles
(Cobalt)

CP17227
Profile Handle-L
(Cobalt)



CP21200
Rounded Side Petit Carre Step Antislip (Unglazed)




CP00025.1 ABS Gratings - Double Joint with Stainless Steel Wire (Cream)


CP00026.1 ABS Grating Corner 90° (Cream)


CP61291 Light Blue Gloss 90 ͦ Convex Angle Large (B Series)


CP20220
Profile Antislip Tile (Unglazed)

Step Antislips

Step Antislips

Special Pieces

Special Pieces

Antislips

Antislips

Channels

Channels

Mosaic Tiles

Mosaic Tiles
Serapool Petit Carre Handles and Antislip pool tiles
Non slip tiles including coping with rounded profile and grip groove (called the handle tile) with matching textured tiles (called antislips) suitable for coping commercial pool coping and wet decks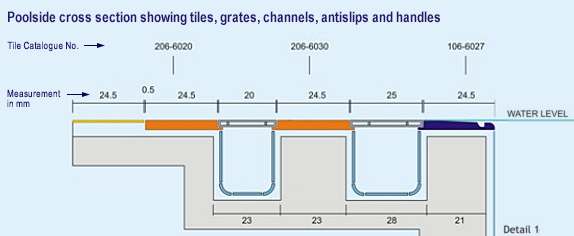 Features of Serapool Pool Tiles
Huge range of tile textures, colours and finishes means you have far more choice than with other Australian olympic pool sized tile and coping suppliers
Most tiles have matching end pieces and corner pieces and with or without a profiled lip on the underside
Large tile sizes ranging up to 250 x 500mm
Large tiles need less grouting needed so less chance of mould
Less mould means pool deck is more hygienic
100% porcelain tile for long life and colour fastness
Huge range of handle profiles, sizes, colours and textures all come with end tiles and corner tiles.
Elegant XL
Petit Carre
Striped Handle
Peitra
Alibey Petit Carre
Apache
Handle with Numbers
| | | | |
| --- | --- | --- | --- |
| Elegant XL | Elegant XL | Apache Handle | Apache Handle |
| Handle with Numbers | Handle with Numbers | Pietra (Stone) | Pietra (Stone) |
| Striped Handle | Alibey Handle | | |