Mushroom Granite Tiles & Pavers *Low stock*
Description
A clever chameleon with light multi-coloured layers of beauty which can play it warm or cool. Neutral in the sun but so stunning it may steal the limelight!
Why choose Mushroom Granite?
Mushroom Granite provides a modern, light look. It's a very dense stone and will stand the test of time. There is minimal colour variation compared to many other natural stone tiles. Granite is a non-slip tile safe for pool surrounds and is cool underfoot. There is minimal variation from tile to tile but Mushroom can have some Almond Granite mixed in. The tiles contain a small amount of mica which sparkles in the sunlight.
Maintenance
Minimal. Seal with penetrating sealer to make cleaning easier. The surface can get brown marks on it early in its life. This is easily removed and will not continue past the short term. Click here to learn more about how to care for your natural stone.
Relative Pricing
High range - higher than grey granite, concrete, sandstone, linen travertine and limestone.
Stocked Tile Sizes
400 x 400 x 20mm
Stocked Matching Pieces
Coping profiles - Bullnose, Square edge, Grande, Skimmer Lids, Grate, Bullnose External Corner, Square Edge External Corner
Availability
Low stock availability
Custom Orders
You can choose your own sizes, pattern, profile and surface finish - allow 8-10 weeks from order date.
Slip Rating (Wet Pendulum)
A P5 (V) pendulum classification, (AS 4586) "New surfaces" is the highest wet pendulum classification available under the current standards. For pool surrounds, a minimum of P4 is required.
Mushroom Granite tiles
Mushroom Granite Closeup
Mushroom Coping Profiles
Stunning look
Mushroom Granite Pool Tiles
Wave drain grate blends in
Mushroom Granite Pool Tiles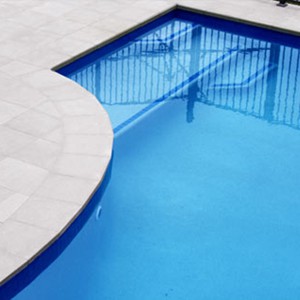 It will look this good for years
Mushroom Granite Pool Tiles
Mushroom Granite Pool Tiles
Mushroom Granite Pool Tiles
Mushroom Granite Pool Tiles
Mushroom Granite Skimmer Box Lid
QUAD Recess Frame
Mushroom Granite Grate 600x225x30mm
External Corners
Disclaimer:Due to the colour variations inherent in natural stone, care should be taken when laying your tiles. It is recommended that tiles/pavers from all crates should be blended as the job proceeds. Both thickness and dimensions may vary up to +/- 2mm. Therefore, tiles may have to be graded accordingly.