Linen Travertine Tiles & Pavers
Description
This natural off-white classic travertine tile evokes the desire to gaze upon it's beauty and the desire to touch its smooth, cool surface. Reminiscent of a gorgeous bride in her off-white wedding dress. Natural, light, elegant and cool. This bride, however, can party on a Saturday night and rock up to church on Sunday.
She can cope with the realities of this messy life but still look serene, chic and pristine. Linen travertine, like the bride, has it all! The love is real!
Why choose Linen Travertine?
Linen Travertine tumbled unfilled tiles for pools and surrounding pavers tick all the boxes. This beautiful natural stone is durable and yet soft under foot. It is non slip and yet kind to skin. It is mostly light in colour and yet it's variation of colour helps to camouflage dirt and dust. In its unfilled state, it has natural holes and pits which adds texture and a classic rustic personality and yet is easily transformed to a less time worn appearance by filling the holes at the time of grouting.
The travertine coping and matching tile pieces are tumbled on all four sides which adds to the versatility of this product and enhances its soft, timeless elegance. Linen Travertine is accurately sized, cuts well and is easy to lay. It is cool to walk on even on a hot day. Like we said - You can have it all! The love is definitely real!
More product details below photos.
Linen Travertine Tile
Linen Travertine Tile closeup showing feature unfilled holes
Linen Travertine Coping Profiles
French Pattern Laying Choices and Sizes
Linen Tumbled Travertine
Spectacular Tumbled Travertine French Pattern Job
Travertine Pool Tiles
Travertine Steps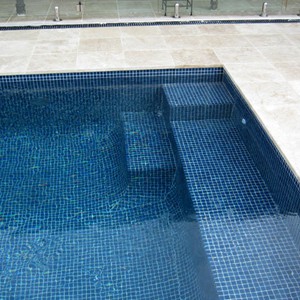 Tumbled Travertine 400x400mm
Tumbled Travertine 30mm thick step tread
Tumbled Travertine 400x400mm outdoor staircase
Tumbled Travertine 400x400mm stairs
Linen Travertine Pool Tiles
Linen Travertine Pool Tiles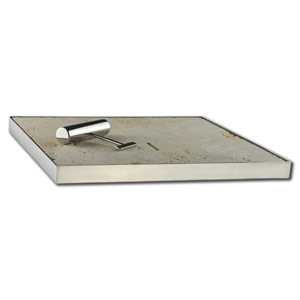 Linen Travertine Skimmer Box Lid
QUAD Recess Frame
Linen Travertine Mitred Rebated Edge
Linen Travertine Grate
More details for Linen Travertine
| | |
| --- | --- |
| Finish | Tumbled and Unfilled |
| Maintenance | Requires sealing. Seal with penetrating sealer to make cleaning easier. Use pH neutral cleaners. Do not use acid to clean. Click here to learn more about how to care for your natural stone. |
| Relative Pricing | Mid range - higher than grey granite, concrete and sandstone. |
| Stocked Tile Sizes | 406 x 406 x 12mm & 30mm; 610 x 406 x 12mm & 30mm; 610 x 610 x 12mm; French pattern |
| Coping profiles | Tumbled Square Edge unfilled, Mitred Rebated Edge |
| Matching Pieces | Pool Grate, Skimmer Lids |
| Laying options | French Pattern is available |
| Availability | In stock |
| Custom Orders | Choose your own sizes, pattern, profile and surface finish - allow 14-16 weeks from order |
| Slip Rating (Wet Pendulum) | A P5 (V) pendulum classification, (AS 4586) "New surfaces" is the highest wet pendulum classification available under the current standards. For pool surrounds, a minimum of P4 is required. |

NOTE: Please click on this link for installation instructions of Mitred Dropface.
Due to the colour variations inherent in natural stone, care should be taken when laying your tiles. It is strongly recommended that the tiles should be blended together, from all of the crates they came in, as the tiling job proceeds.
Also please be aware that tile dimensions including depth or "thickness" may vary up to +/- 2mm.
Therefore the tiles may have to be graded accordingly.

Disclaimer: The colours shown here should be used as a guide only. All computer monitors vary and hence the colours will vary depending on the monitor on which they are viewed. For a more accurate indication of colours, ask us or your pool builder for tile samples.