Decorative stone pool skimmer box cover
In conjunction with Skimmer Lids Pty Ltd, The Pool Tile Company is now offering a range of the patented Skimmer Lids with natural stone infill which safely hide the pool's skimmer box and make it flush with it's surrounds to reduce the risk of tripping.
See the range of our pool pavers that can be incorporated into this handsome skimmer lid design.
Read more information below.
Visit the Skimmer Lids website (opens in new tab).
Skimmer Lids care and maintenance
Care and maintenance information for QUAD - click here
Care and maintenance information for HIDE - click here
Pool Skimmer box cover infill material available
(links below lead to sections of this page)
Granite skimmer covers
Almond Granite
Sandwave Granite
Light Grey Granite
Mushroom Granite
Dark Grey Granite
Sandwave Granite
Sandwave Granite
Sandwave Granite
Almond Granite
Travertine Skimmer box cover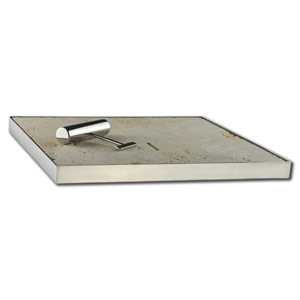 Linen
Macadamia
Silver
Cashew
Ivory
Limestone Skimmer box cover
Parisian Blue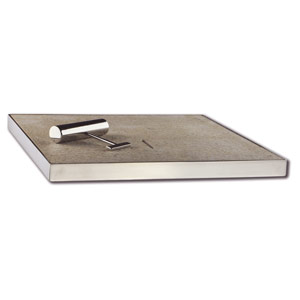 Dune
Sandstone Skimmer box cover
Natural
Honed
Honed Himalayan
Desert
Porcelain Skimmer box cover
Nero Porcellano®
Sand Drift Porcelain
Ash Marblano® Porcelain
Latte Marblano®
Coconut Drift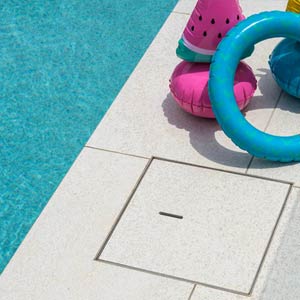 Coconut Drift
Customer Stone Inlay
Patented Pool Skimmer Lid Features
Makes the opening to the skimmer box far less obtrusive by camouflaging the cover, or "lid".
Attractive skimmer lid design with custom or stock stone infill is protected by Australian Patents.
The skimmer cover is "chameleon-like" in that it is designed to "disappear" into the surrounding paving.
Safe for children, pool builders and pool tilers.
Water jet manufacturing process ensures tight tolerances and a great finish.
Durable marine grade 316 stainless steel tray and safety key.
Skimmer box cover satisfies all safety requirements including electrical, ventilation and is child-proof.