Desert Himalayan Sandstone Tiles and Pavers
(Low Stock. Check Stock Availability)
Description
Polished to look smooth, buffed and urbane, the rough cowboy now looks handsome in cream moleskins standing amongst the gentle changing reds of the outback.
Why Choose Desert Himalayan Sandstone?
Desert Himalayan Sandstone provides warm, soft tones. People love it for its upmarket, sophisticated appearance. There is a moderate amount of colour variation from tile to tile with some tiles having grey veining. The surface is smooth due to the honing process. That said, it remains non-slip as it is still quite textured at a micro level.
Maintenance
Himalayan Sandstone is hard but porous making it more susceptible to mould and marking. It is very cool underfoot compared to dark colours. There is minimal thickness variation from tile to tile. Seal with a penetrating, consolidating sealer to make cleaning easier and reduce the effect of salt attack. Do not use strong acid to clean.
Relative Pricing
Economical – comparable to concrete.
Stocked Tile Sizes
400 x 400 x 15mm; 600 x 600 x 15mm; 600 x 600 x 35mm
Stocked Matching Pieces
Coping Profiles - Bullnose, Rebated Bullnose, and Rebated Square edge, Skimmer Lids. Availability: Standard sizes listed are usually available ex-stock.
Custom Orders
Choose your own sizes, pattern, profile and surface finish - allow 14-16 weeks from order
Slip Rating (Wet Pendulum)
A P5 (V) pendulum classification, (AS 4586) "New surfaces" is the highest wet pendulum classification available under the current standards. For pool surrounds, a minimum of P4 is required.
Desert Himalayan Sandstone Tiles
Desert Himalayan Sandstone Tile closeup
Desert Himalayan Sandstone Coping Profiles
Desert Sandstone Tiles
Desert Sandstone Pavers
Desert Sandstone Rebated Square Edge Coping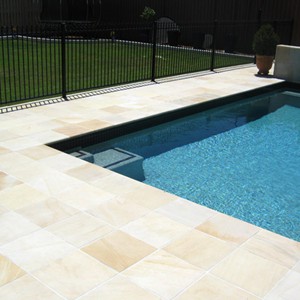 Desert Sandstone Pool Tiles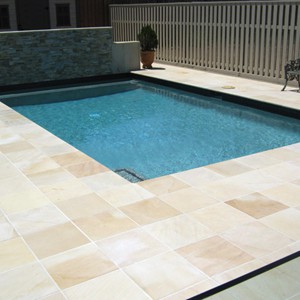 Desert Sandstone Stone Tiles
Desert Sandstone Surrounds
Desert Sandstone Tiles
Desert Sandstone Skimmer Box Lid
QUAD Recess Frame
Disclaimer:Due to the colour variations inherent in natural stone, care should be taken when laying your tiles. It is recommended that tiles/pavers from all crates should be blended as the job proceeds. Both thickness and dimensions may vary up to +/- 2mm. Therefore, tiles may have to be graded accordingly.